We invite you to "Cross the Streams: Bring Interpretation and Education Together to Achieve Shared Goals."
Join us for the 2018 Association of Missouri Interpreters Workshop September 10th – 13th, 2018, at Echo Bluff State Park in Eminence, MO. Echo Bluff State Park, opened in mid-2016, is a 476-acre park featuring Sinking Creek and the former home of Camp Zoe, a summer youth camp that provided outdoor experiences to young people. Now the park is a destination for visitors exploring the fantastic natural resources and local communities in the Ozarks!
At this year's workshop, both educators and interpreters will find techniques and ideas for engaging with a variety of
audiences, all while having a grand time with a group of wonderful, passionate people!
---
Workshop Registration:
Full Registration: $90                                     Lifetime Member Registration: $75
Student Registration: $45                                               One-Day Registration: $25
---
Workshop Location & Accommodations: Echo Bluff State Park
Echo Bluff features the picturesque bluff, playground and splash pad, picnic shelter, and amphitheater. Lodging at Echo Bluff includes:
The Lodge – 16 traditional full-service guest rooms and 4 suites (no pets permitted in The Lodge)
Park Cabins – fully equipped stacked cabin first-floor units (4), stacked cabin second-floor loft units (4), 2- bedroom cabins (4), and a 4-bedroom cabin
Timbuktu Campground – 62 full-service sites as well as walk-in camping
More information about the lodge and its amenities can be found at www.echobluffstatepark.com
GPS Address:

Echo Bluff State Park – 34489 Echo Bluff Drive, Eminence, MO 65466 Coordinates: 37.313515, -91.411840
Important:
Because of the smaller number of rooms at this facility, please consider having a roommate. This will help ensure our attendees can all stay at the same location. When you place your reservation, please note with hotel staff you are part of the Association of Missouri Interpreters Workshop to get the group rates.
To Make A Reservation:
Call Echo Bluff State Park at (844) 322-3246 for the discounted rate.
Mention you are attending the Association of Missouri Interpreters Workshop to receive our group rate. Rooms are available Sunday, September 9th – Wednesday, September 12th for our workshop.
Indicate which room type you would like to reserve. Guest services will help pair you with a roommate if requested.
Other lodging is available in Eminence and Salem. Check out "Stay Here" on the Eminence community website: www.visiteminence.com or find Salem accommodations at www.salemmo.com under the business directory "lodging."
---
Workshop Agenda
Our agenda for this workshop is full of fantastic learning experiences! Find everything you need to know about the workshop below. An At-A-Glance agenda can be found at www.mointerp.net.
Monday, September 10th: Pre-Workshop Sessions:
Join us early to add tools to your toolbox whether you are an educator or interpreter! All sessions will leave from Echo Bluff State Park. Dinner is on your own after the trips conclude, but the hospitality room will be open in the evening.
Hike and Float     9:00 a.m. – 6:00 p.m.    ($10 box lunch) Hike from Echo Bluff State Park to Current River State Park, then float (kayaks and instruction provided for this 5-mile float!) to Round Spring.
The hike is relatively strenuous (~5 miles) so wear appropriate shoes and bring a water bottle and sunscreen. Along the way, discover springs, river wildlife and maybe some wild horses!
Ozark Mills: Heritage and Hydrology         9:00 a.m. – 5:00 p.m.    (lunch on own in Licking) $5 donation suggested at each of the two private mills
Tour area grist mills (Alley,  Summersville, Licking, and Montauk) with a focus on the power of water to attract human settlement. Discuss and experience principles of milling that can be incorporated into interpretive programs and teaching curriculum.
Making Pleasant and Productive PowerPoints Afternoon and evening sessions (dinner on your own) 
PowerPoint has an undeserved negative reputation. It can be a powerful tool for communicating information, but many people do not know how to use it. This workshop will explore the theory behind producing an engaging program and then explore some of the useful features of PowerPoint that make production and presentation easier and more aesthetically pleasing (master slides, photo albums, transparent colors, etc.). Features such as animations, embedded media, and hyperlinks, which can make the presentation more enjoyable and interactive, will be discussed.
The workshop will begin at noon on Monday, Sept. 10. The formal presentation will go until 5:00 pm. Bring your personal projects and laptops. (We might have some loaners available.) There will be an after-dinner session in which we will tackle any particular problems you may have with formatting and presenting.
Tuesday, September 11th: Registration Opens at 10:00 a.m.
Workshop Kick-Off begins at 1:00 p.m.

Keynote Speaker – Dr. Ted Cable, Kansas State University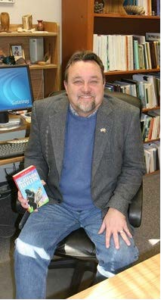 Ted Cable is Professor of Park Management and Conservation in the Department of Horticulture, Forestry and Recreation Resources at Kansas State University. He has authored 15 books, book chapters, scenic byway video scripts, and more than 200 articles, reports, and presentations dealing with human – nature interactions, avian ecology, and environmental interpretation. Three of his books deal specifically with interpretation and in his other books, Dr. Cable uses the written word to interpret birds, landscapes, and the work of conservationists. He has served as Visiting Professor all around the world and has received teaching awards from many agencies such as U.S. Department of Agriculture, the U.S. Environmental Protection Agency, and the Kansas Wildlife Federation. He has been recognized with the William C. Everhart Award and the Lifetime Achievement Award from the Association of Missouri Interpreters. NAI also awarded him the Master of Interpretation Award and named Dr. Cable a Fellow of the National Association for Interpretation, NAI's highest honor.
Concurrent Sessions – Detailed agenda will be provided in your packet at registration.
How do you cross the streams for interpretation and education? If you have techniques, strategies, tried and true ways of getting your theme across, share them with your colleagues in education and interpretation by presenting a session. Concurrent sessions will run from 2:00 pm – 5:00 pm on Tuesday, September 11th and from 9:00 am – 12:00 pm on Thursday, September 13th. Session times vary from one to two-hour blocks and we welcome any topics related to natural and cultural resources, outdoor skills, environmental education, interpretive administration and MORE! To find the session proposal form, please visit www.mointerp.net or check your email inbox.
Banquet & Awards
A fine sit-down dinner will be provided by the chefs of Echo Bluff State Park. The annual awards ceremony will follow the meal. The theme for this year's banquet is Ozark Shindig, so wear your finest overalls and prairie dresses! Afterwards "kick up your heels and rosin up your bow" for the traditional AMI jam session. (Don't forget to bring your instruments and your dancing shoes!)
Wednesday, September 12th: Workshop Field Trips
Field trips are designed with both interpreters and educators in mind. Your host will focus on incorporating interpretive and educational goals (including Missouri Learning Standards) with an emphasis on authentic, hands-on activities. All trips will leave from Echo Bluff State Park.
After the field trips, two choices for Wednesday night dinner are being offered. You can eat on your own at the Echo Bluff Lodge restaurant or choose to go to the Ozark Cookout, catered by Shannon County Extension Council, 6:00– 7:30 p.m. at the Bluff Top Pavilion. The meal will please meat lovers and vegetarians alike with a combination of Dutch Oven, grilled and other goodies. Cost of the Extension dinner is $10 (sign up for ticket(s) when you register). As an extra treat during that time, there will be a Pie and Cake Walk at the pavilion to raise money for scholarships and stipends (open to all even if you don't choose to do the Extension supper). Then at 8:00 p.m. let's all meet back at the Lodge for the always entertaining Scholarship Auction!
Upon This Rock: Ozark Geology and Culture – 8:30 a.m. – 5:00 p.m. ($10 box lunch): Immerse yourself in geology by spending a day visiting native stone buildings, including Zoe Lodge, Current River Lodge, Shannondale CommunityCenter, Akers Zion Church and more. Explore how the Ozark people used native materials to learn to live on the land they chose. We will explain how similar vernacular architecture examples can be used to teach local geology and the history/culture of any area. Some walking, no extensive hiking. Hosted by Jo Schaper.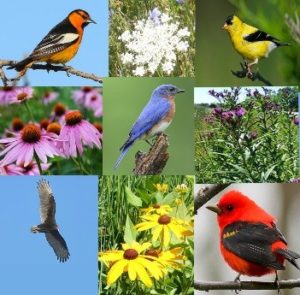 Birds, Blooms and more! – 7:00 a.m. – 2:00 p.m. ($10 box lunch): Identify diverse birds and fall flowers at Echo Bluff and continue to Current River State Park. Participants will get an up-close view of glade habitats and the role they play in the Missouri Ozarks ecosystems. Some binoculars available, or bring your own!
Wildlife Management – 5:30 a.m. – 2:30 p.m. ($10 box lunch): Visit Peck Ranch to learn more about cooperative wildlife management strategies for invasive, reintroduced and endangered species. Elk and Feral Hogs will be the primary topics discussed by MDC wildlife biologists. Be advised, possible graphic content. Lunch will be at 1342 ft. on top of Stegall Mountain.
Salem History Tour – 8:00 a.m. – 3:30 p.m. (lunch on your own in Salem): Visit the Ozark Natural & Cultural Resource Center in Salem to see how the community, organizations, and agencies are sharing the heritage, natural resources, and culture of this region through partnerships and programs. View the quilt exhibit hosted by the Current River Scrappers Quilt Guild. Then explore Salem's history and historic buildings during a leisurely walking tour through town.
Stream Ecology Float – 7:30 a.m. – 4:00 p.m. ($10 box lunch): Water quality is a cornerstone for multiple agency management practices in the Missouri Ozarks. Float the Upper Current River, performing stream team cleanup and water quality analyses as used with school groups, such as macroinvertebrate collection and water chemistry. Kayaks and instruction provided.
Community Partners in Education: Oak Hill School & Bonebrake Center
8:00 a.m. – 5:00 p.m.
($1 donation suggested at the Bonebrake Center, lunch on your own in Salem)
Teachers and interpreters will visit two sites where they can see "crossing the streams" in action! Oak Hill R-1 School District (a K-8 public school in southern Dent County) has developed partnerships with government agencies and non-profit groups to interpret nature and culture while meeting curriculum standards. Middle school students will show us the school's outdoor classroom and Monarch Butterfly project site and lead their own interpretive program for younger students. Then travel to the Bonebrake Center of Nature and History to participate in several hands-on outreach programs.



AMI Scholarship and Professional Development Auction begins at 8:00 p.m.
Looking for Stuff! The annual AMI auction raises funds to provide student scholarships and professional development stipends. YOU CAN HELP — Talk to your neighborhood businesses; check your closets; bring items to donate to the registration table. Your generosity makes this happen every year!
Thursday, September 13th
 Concurrent Sessions continue 9:00 a.m. – 12:00 p.m.
Detailed agenda will be provided in your packet at registration.
 AMI Lunch and Business Meeting 12:00 -2:00 p.m.
---
To Register for the Workshop:
Go to https://www.surveymonkey.com/r/5JQT68Q to register for the workshop
Your registration confirmation email will provide details on how to proceed with payment via cash, check, or credit The registration survey does NOT include a payment option. Payment must be made with AMI treasurer Michelle Soenksen.
Registration & Payment Deadline: August 24, 2018
---
Workshop Registration:
Full Registration: $90                                     Lifetime Member Registration: $75
Student Registration: $45                                               One-Day Registration: $25
---